To be champions of the Bundesliga, Dortmund needs to win on the last day.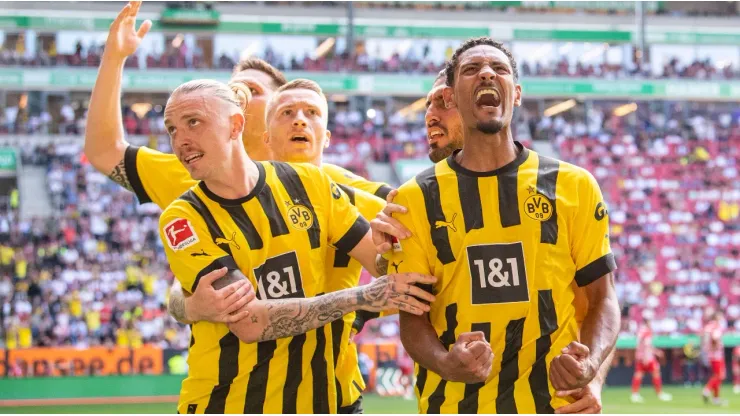 As they defeated Augsburg 3-0 on Sunday, Borussia Dortmund moved closer to winning the Bundesliga championship for the first time since the 2011–12 campaign.
Going into the final game week of the season, Dortmund now leads defending champion Bayern Munich by two points as a result of the result.
DORTMUND GO TWO POINTS CLEAR OF BAYERN MUNICH HEADING INTO THE FINAL MATCHDAY 😱

THEY ARE CLOSE TO THE TITLE 👀🏆 pic.twitter.com/gzvaiDX5pc

— ESPN FC (@ESPNFC) May 21, 2023
MUNICH OPENS THE DOOR WITH A SHOCKING LOSS
The Die Borussen defeated 10-man Augsburg by a score of 3-0 after taking full advantage of Bayern's unexpected 3-1 setback to RB Leipzig on Saturday at the Allianz Arena.
Dortmund gained a crucial victory thanks to Sebastien Haller's two goals and Julian Brandt's late goal, which puts them within striking distance of winning the Bundesliga for the first time in 11 years.
Dortmund was by far the superior team and sought to pressure the home team from the first whistle. Sebastian Haller was first stopped by Augsburg goalkeeper Tomas Koubek as Dortmund gained momentum.
The visitors frequently opened up their opponents with excellent wing play and great distribution, but they were unable to score despite numerous clear-cut chances.
After Felix Uduokhai was given the boot for bringing down Donyell Malen, who was through on goal, Augsburg was subsequently down to ten men in the 38th minute. The hosts hung on to keep it scoreless at halftime despite the numerical disadvantage.
HALLER PUTS DORTMUND IN FRONT!

THEY ARE NOW TOP OF THE LEAGUE 🤯 pic.twitter.com/fVPUZzcch8

— ESPN FC (@ESPNFC) May 21, 2023
HALLER BREAKS THE DEADLOCK
In the 58th minute, Haller finally scored, taking advantage of shoddy Augsburg defending to seize a loose ball in the box and smashing his effort into the far post. When Koubek could only parry Marco Reus' shot directly into the path of the attacker, the 28-year-old increased the score to 2-0 with the easiest of finishes.
Deep into stoppage time, Brandt added a stunning left-footed goal to make it 3-0, giving his team the win.
Now, Dortmund welcomes Mainz to town knowing that a victory will clinch the Bundesliga championship. If Bayern lose against Koln on Saturday, they would still win the championship with a draw or a loss.